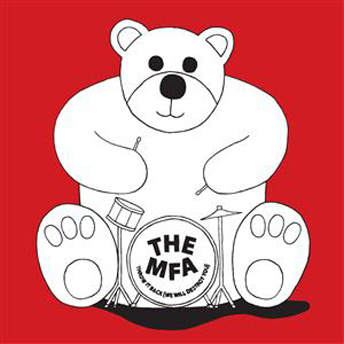 Throw It Back (We Will Destroy You) by The MFA
The MFA return to dancefloor duties with the long-awaited release of live show favourite 'Throw It Back (We Will Destroy You)': a timeless blend of squelchy acid, crunchy guitar and syrupy smooth vocals produces synth-pop at its classiest.

'Throw It Back' sees The MFA back in effortless pop mode with a worthy contribution to the synth-pop cannon, channelling the spirit of classic New Order and infusing with their own melody-rich untouchable dancefloor charm. A tougher new wave electro house reimagining comes courtesy of Jonathan Kreinik, New York based producer, engineer and remixer to an illustrious roster of bands as well as flying solo as Jonathan Kreinik and JNTHN, whilst James Holden's latest golden boy Luke Abbott turns out an exemplary slice of danceable electronica in the name of his own twisted rework. Alternative MFA interpretation the 'Bear Dub' keeps the beats dirty with a heady, dubby affair that goes easy on the vocals and heavy on the bass, and that addictive 'Ah-ah' refrain is also thrown in as a handy bonus to add to your arsenal of DJ tools. With 'Throw It Back (We Will Destroy You)' The MFA's pop credentials are firmly rubberstamped, as our ever-playful daft duo continue to write their own quirky legend.
'Throw It Back (We Will Destroy You)' final ever vinyl copies available on Border Community market. Digital formats available from MP3 Store, Amazon
, Bleep and stream from Spotify.