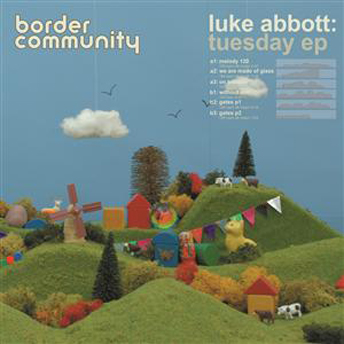 Norfolker Luke Abbott joins the Border Community to release the rather accomplished 'Tuesday EP', a musically ambitious selection of modern psychedelia which crams six short but extremely sweet songs into just 22 minutes.

Luke Abbott's debut release for Border Community embraces a love of the experimental, fused with a warmth and personality which knits the six tracks together into a coherent whole. 'Melody120' is the melodic gem you might expect, twinkly euphoric popno that is driving enough for the dancefloor. On 'We are Made of Glass' woozy echoes of synths meet an offbeat thud to leave your head somewhat spinning, whilst the wistful 'On Tuesday' wrings a rare beauty out of the 8-bit strains of the machine. 'Without Aim' is a noisy monster indeed, bringing triplet time stomping back into clubs everywhere as we hereby proclaim that Schaffel is most certainly not dead yet. The morphing percussion of 'Gates P1' meanwhile doubles as a handy fuzzy drum tool for the dynamic DJ set, before being stripped back to its twangy melodic essence in 'Gates P2' – an aural comfort blanket to close a special EP.
Purchase last ever vinyl copies of 'Tuesday EP'. Also tracks available to download from the MP3 Store, Amazon
and stream on Spotify.