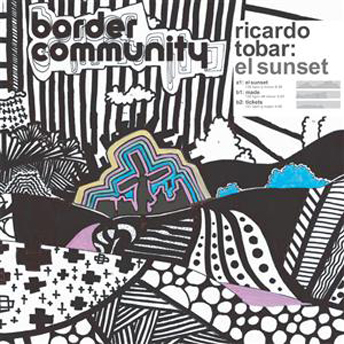 Any new artist's debut release is a special thing indeed, so here at the Border Community we are truly honoured to be bringing you the first ever record from Chile's Ricardo Tobar: a neat three track snapshot of his considerable melodic talents.

The aptly titled 'El Sunset' is ideal for those late summer open-air outings: a haunting spine-tingler perfectly executed using a delicate hand, bearing witness to Mr Tobar's exemplary taste and a real production finesse. Flipside 'Made' is soaring, driving and euphoric, a slice of electronic-rock bombast that lovers of novelty genre names might well dub nu-gaze (or perhaps even nu-shoe?!). Finally, 'Tickets' plays us out with yet more cascades of heart-wrenching melodies, just pleading with you to flip back over and start listening all over again.
Final vinyl copies ever of 'El Sunset'. download tracks from the MP3 Store, Amazon
, Bleep and stream on Spotify.