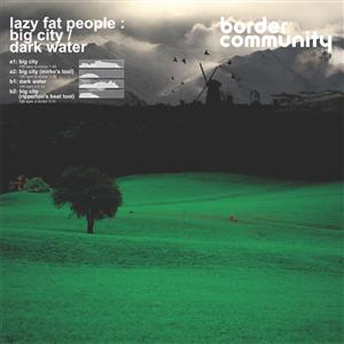 Just when you thought you had got us pigeonholed, along come Switzerland's Lazy Fat People with micro-rave anthem 'Big City' and edit heavy dj weapon 'Dark Water' to make you think again.

A pair of accomplished DJs in their native Switzerland, Raphael Ripperton and Mirko Loko team up to form the Lazy Fat People, who aren't actually particularly fat or lazy at all. The beauty of their 'Big City' lies in its effortless simplicity and artful arrangement, a killer melodic hook which subtly rises and falls according to their own instinctive feel for what is just right, then transformed into synthy and beaty DJ tools by Mirko and Ripperton respectively. 'Dark Water' meanwhile is a filthy edity DJ tool of a record, proving that minimal doesn't have to mean boring.
Final ever vinyl Copies of 'Big City' available from the Market. Downloads available from the MP3 Store, Amazon
, Bleep and stream on Spotify.