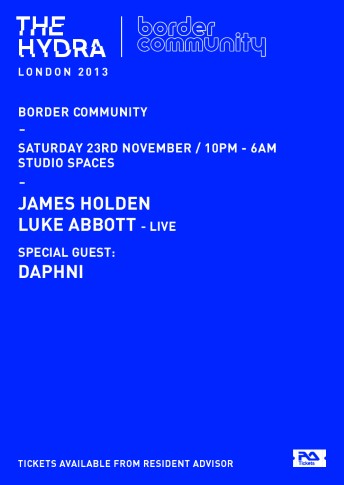 Our next Border Community London throwdown is scheduled for 23rd November, when we'll once again be pairing up with The Hydra team to host one of their Autumn series of parties, to take place at the loft-style Studio Spaces venue in Wapping.
Our special guest for the evening is no less than Caribou-mainman Dan Snaith's dancefloor-inspired alter-ego Daphni, fresh from fiddling with Mr Holden's Renata for that ultra-collectable marbled grey 10″ vinyl.
Of course it wouldn't be a Border Community party without our resident cosmic DJ extraordinaire James Holden, present and correct with an elongated set of idiosyncratic danceables; and this time round he is aided and abetted by his synth arms race co-conspirator Luke Abbott who'll be stretching the dancefloor's psychedelic potential with the current intense incarnation of his live set.
Head over to Resident Advisor for the full list of all of the parties in The Hydra series, and secure your tickets for our 23rd November do here – for just £10, if you're quick!