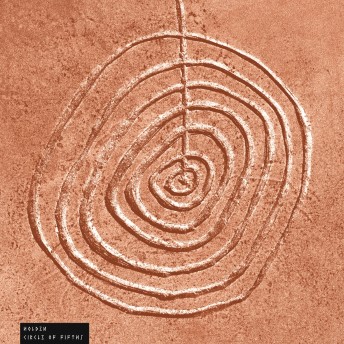 Of all the Class A synth-jams contained within James Holden's monumental album proclamation The Inheritors, the tape-softened fuzziness of 'Circle of Fifths' may not seem like the most obvious single candidate – but in these three not-on-the-album alternative interpretations we see the foreboding-filled interlude assume surprising new proportions.

The modestly titled lead 'Tool' version is more of a deep-and-dirty primal club freakout that brings the lunatic gibbering of the mysterious Shimble right to the forefront, to overwhelmingly disorientating effect. The 'Dub' meanwhile transposes the pagan aesthetic of the album into the communal ritiual of the club dancefloor, whilst the final bonus 'Gibbersolo' lets Shimble's Gollum-esque madness rip in a more than a little disturbing accapella form.
As Holden's unashamedly ambitious album statement 'The Inheritors' and his recently-developed accompanying new sideline in synth+drums live show lead him on to pastures new (including stadium-sized support slots for none other than Atoms For Peace on their 2013 US tour), 'Circle of Fifths' is one final bonus 12" nod to the dancefloor where he made his name.