Trans Forest Re-Alignment
Posted By: Gemma on 17/01/11
The selection of a new Luke Abbott single from his wizard debut album Holkham Drones provided us with another perfect excuse to call in one of the Norwich necromancer's art school buddies on video duty. This time it was the turn of live visuals man Dan Tombs to turn his analogue hands to a film clip to accompany hedonsitic hoedown Trans Forest Alignment, to which end his footage of the album's namesake Holkham beach (and Cromer, just along the coast) was subjected to a colour separation process not dissimilar to that employed by amateur cinematographer J. Ron Chapman in his 1979 short film 'The Magic Sea' (which, if you went and looked it up in the East Anglian Film Archive, you would recognise from the still which adorned the cover of the 'Holkham Drones' album).
Luke Abbott – Trans Forest Alignment from Border Community on Vimeo.
Dan and Luke's foamy video brings the 'Holkham Drones' album cover to life, and makes a welcome latest addition to Luke's sizeable video back catalogue, most of which, you will note on our YouTube channel, evidence a similarly technicolour psychedelic flavour care of his art school co-conspirators Tombs and Page.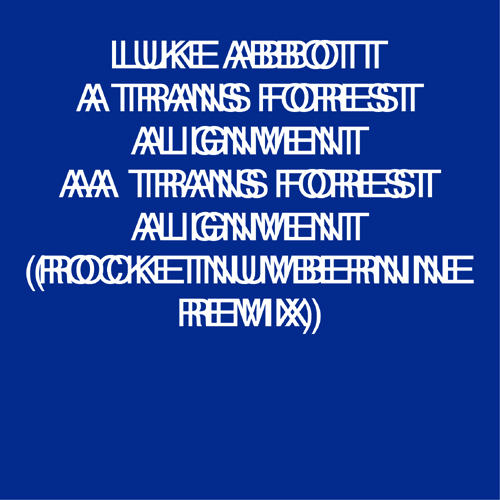 The 'Trans Forest Alignment' single meanwhile is remixed for 2011(!) by DFA's mighty synth overlord Gavin Russom, taking the mystical, pagan and ceremonial undertones of the original to the next level, and Text's visceral beatniks RocketNumberNine, whose live-jazz-drums-versus-sampler showdown gives off a surprising UK garage flavour. Bolshy, grouchy dancefloor stomp 'A Caucus Race', whose grumbling, bear-with-a-sore-head buzzing proved just that little bit too headstrong to merge gracefully into the 'Holkham Drones' universe, is the final essential piece in the collector's puzzle, positively itching to add a touch more Luke Abbott domination to a whole new year of DJ sets. Grab the digital files from Monday from our own mp3 emporium, or order your vinyl right away from the likes of Rough Trade for dispatch on January 31st.
Tags: Luke Abbott