The view from the windmill
A blog about what we are up to and what we are into, straight from the Border Community's mouth.
As the shortlist for this year's edition of the Red Bull Music Academy went live today on XLR8R, we were pleased to spot the name of one Harald Bjork amongst the participants, longtime ally of the Border Community whose DJ and live performances can be eagerly arranged by our Border Booking agency offshoot. In an admirably DIY fashion, hardworking Harald normally handles his own record releases via his Kranglan Broadcast boutique label from his Stockholm base, but will be taking a welcome break from the self-made solitude to head over to New York this autumn for an intense session of collaboration, contemplation and cross-pollination with a select band of Academy attendees – both known (Throwing Snow, Koreless, Evian Christ, T.Williams, Objekt) and unknown – hand-plucked from across the globe.
Our own noble leader James Holden took part in a previous edition of the academy back in 2010 in London in a lecturer capacity, interviewed by the insightful Gerd Janson to expound the Holden just-DIY gospel in front of assembled delegates from a wide variety of musical backgrounds. And fortunately for everyone who didn't make the 2010 cut, a video of said enlightening conversation can now be found in the bulging Red Bull Music Academy archives for all to share in the wisdom:
Lecture: James Holden (London 2010) from Red Bull Music Academy on Vimeo.
It is clear that participating students gain immense benefit from this unique Red Bull-funded opportunity to meet up with other fledgling electronic musicians in a vibrant world city and pick the brains of some of their musical heroes, but James was also surprised at just how rewarding and illuminating he found the whole experience to be from his end, as he rose to the challenge of taking what he has learnt over his time in the limelight and applying it to budding music careers of all genre flavours. Participation comes highly recommended from all quarters, so bookmark the application page and set a reminder to check back next March when the call for submissions for next year's edition goes out…
Elsewhere on the Red Bull Music Academy platform, eminent dance music scholar Joe Muggs has today published a trip down memory lane in the form of a Youtube-heavy retrospective of the early nineties genre he is collectively referring to as Drug Dub, which also comes highly recommended. This hippyish fragmentation of the rave scene was a huge formative influence on our own James Holden, although being still at school back then it came to him via the slightly unusual route of tape cassettes loaned out by his physics teacher Mike Jenkins rather than the acid-addled beanbags of the rave backroom. As Joe Muggs writes, the tracks that form the legacy of the Drug Dub scene (some may even think of it as an embryonic form of what later became known as trance) "do all represent a period of brilliantly unselfconscious exploration and willingness to take ideas to their logical conclusions and a long way beyond," and this sense of musical freedom is something which James has tried to retain in his own music right up to the present day. Here begineth the lesson.
Blocage
Posted By: Gemma on 05/07/12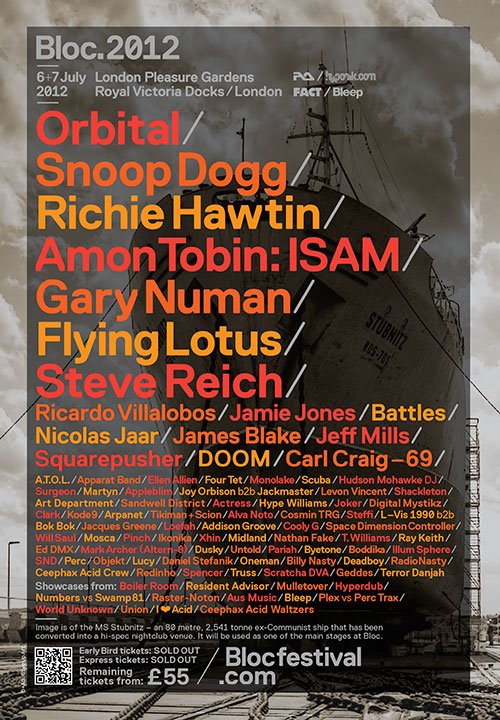 I am seriously excited about tomorrow night's far east excursion to Newham's recently mushroomed London Pleasure Gardens for the already wonderful Bloc festival, which has evolved on the occasion of their sixth edition from holiday camp weekender rave-up into a London-rooted cultural installation destination. The line-up itself is pretty killer, pulling off quite the coup on the Friday with unlikely once-in-a-lifetime must-see double headliners Snoop Dogg and Steve Reich, with all the usual Bloc suspects spread across the Pleasure Gardens complex throughout the rest of the weekend: Four Tet, Orbital, Flying Lotus, Actress, Martyn, Ricardo Villalobos, Richie Hawtin, Digital Mystikz, Perc, Jeff Mills, Oneohtrix Point Never, Ceephax Acid Crew, Transparent Sound, Ellen Allien, Apparat, Surgeon, Clark, Squarepusher, Carl Craig, Lucy, Jon Hopkins, Luke Vibert, Shackleton, Jamie Jones, Midland, Will Saul, Daniel Stefanik, Kode 9, Ikonika, James Blake, Gary Numan, Battles, Hudson Mohawke, Art Department, Joy Orbison, Ed Chamberlain, Cosmin TRG, Joker, Mosca, Nicholas Jaar, Amon Tobin, Alva Noto, Boddika, AGT Rave Cru, Billy Nasty, Levon Vincent, Monolake, Jacques Greene, Space Dimension Controller, Cooly G, Terror Danjah, Addison Groove, Illum Sphere, Untold, Appleblim, Xhin, Geddes, Jackmaster and Scuba.
But it is the realisation that this new Pleasure Gardens complex – which aims to bring a 21st Century version of London's historic Pleasure Gardens back to The Royal Victoria Docks – is managed by the said same people who run the truly life-changing Shangri La area at Glastonbury that has got me really hot under the collar. The wondrous sense of escapism experienced when wandering around the magical Shangri-La alternative Glasto-universe is almost impossible to convey through words, pictures, or even video, so to really understand what I am going on about – and especially on this Glastonbury fallow year – you will have to get yourself down to the Pleasure Gardens to experience for yourself, either this weekend for the Bloc extravaganza or one of this summer's other upcoming events. Exactly how their Glastonbury vision will translate into the new London location, and what exactly will be wheeled out for the Bloc.2012 do remains to be seen, but the sense of mysterious anticipation is all part of the excitement – though do move fast to snap up one of the few remaining Saturday night tickets, as this edition of the festival is all but sold out. (Click here for your full printable pdf showing who plays where, and when).
The Friday Bloc tickets have long since flown out the door, but anyone who managed to grab one can look forward to a live set from Border Community's own Iceni warrior Nathan Fake at 1am on Friday in one of the old fish storerooms of the former-GDR deep sea fishing boat the MS Stubnitz. Not usually part of the Pleasure Gardens concept, the MS Stubnitz set sail from its Wilhelmshaven German base earlier this week for its first trip to London, mooring in the Royal Victoria Docks for the duration of the Bloc weekend. Stubnitz saviour Captain Blo tells the Bloc crew the inspirational story of how he came to acquire the 80 metre vessel from the newly reunified German regime in 1992, transforming it into a floating cultural space set up for musical performances and art installations alike:
Far from a London-centric dilution of its former holiday camp self, this new Bloc incarnation promises to channel the impeccable production values of the Pleasure Gardens team to reveal a magical world of art installation wonder. I really can't wait!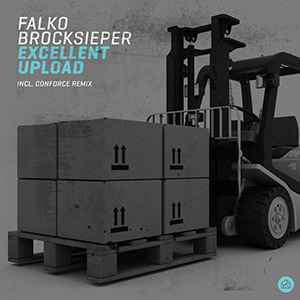 The 2012 resurrection of the German techno scene stalwart Sub Static label continues apace with label Papa Falko Brocksieper's solo release counterpart to Mama Mia Grobelny's Arcane May comeback, the aptly titled Excellent Upload. With a found footage video evoking a suitably grimy old school techno vibe, the Excellent Upload title (along with similarly inclined B-side Epic Share) succinctly sums up what it means to release a techno record in 2012, where the former sense of satisfaction and achievement in sending slices of sumptuous vinyl out to find their home has now been reduced to a stream of two-word reviews under a set of cheapo freebie digital files:
The blurb on Falko's website also tells us that:
"'Excellent Upload' is Falko Brocksieper's 26th EP, raising the anticipation of his 3rd album 'Shortcake Strategy', which will be released on Cologne's Treibstoff Records in autumn 2012."
Personally, I can't think of any artist that I want to hear 26 EPs from – and herein perhaps lies part of the problem behind modern day dance music's inherent disposability. For if techno has become this entirely computer-bound production line, churning out endless digital audio for immediate upload to the web, how is the poor end consumer to decide what is actually worth paying for?
On the flipside, people have occasionally been known to criticise Border Community for the paucity of our output and the lengthy wait between releases. But between you and me: a label which releases less music overall, but where each of those releases is a heartfelt, meaningful artistic statement in its own right, is the only sort of record label that I want to be part of.
Over the last few summers, Croatia's sun-kissed Adriatic coast has put itself on the summer party scene map in a serious way, with a bewildering array of pop-up festival possibilities in romantic locations along the coast all through the summer. The only problem is choosing just where in Croatia you should splash your festival cash. Last year, our earnest sound sculptor James Holden made a point of stopping off at the homegrown Hartera Festival set in the magical ruin of a 150-year old paper factory in the town of Rijeka, where we would have happily spent the whole weekend, had duty not beckoned us elsewhere.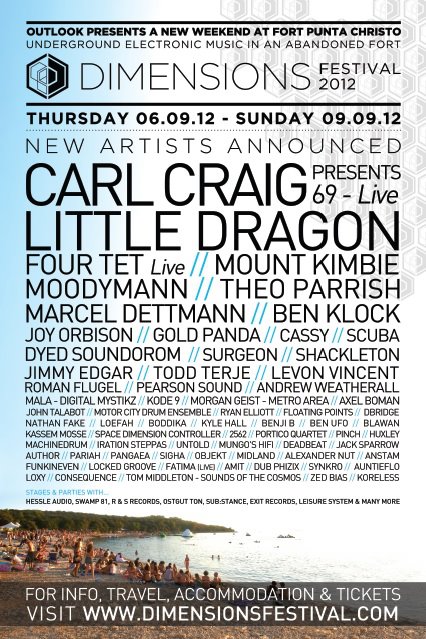 This year it is Nathan Fake's turn to represent at the more international Dimensions Festival in Pula, a back-to-back offshoot of annual bass music convention Outlook that books up their dramatic Fort Punta Christo location for a bonus follow-on weekend from the 6th – 9th September. With stages located within the crumbling remains of the actual fort as well as down on the beach and (for an extra fee) on a selection of limited capacity label-hosted boats, the festival takes full advantage of Croatia's more laidback approach to the preservation of their national heritage, allowing you to get up close and personal with the 19th century fortifications in a way which would never be permitted in the UK. And the techno-tinged line-up that they have drafted in for the occasion looks suitably monumental, including Four Tet, John Talabot, Gold Panda, Alexander Nut, Petar Dundov, Iration Steppas, Andrew Weatherall, Mala, Floating Points, Roman Flugel, Mount Kimbie, Carl Craig's 69 Live project, Lone, Midland, Pearson Sound, Ben UFO, Surgeon, Shackleton, Theo Parrish, Kode 9, Joy Orbison, Jimmy Edgar, Auntie Flo, Axel Boman, Space Dimension Controller, Tom Middleton, Cassy, Marcel Dettmann, Ben Klock, Joel Mull, Morgan Geist, Motor City Drum Ensemble, 2562, Addison Groove, Blawan, Boddika, Fatima, Funkineven, Kassem Mosse, Koreless, Kyle Hall, Loefah, Pangaea, Pinch, Zed Bias, Scuba and Moodymann. Phew.
Your basic weekend ticket starts at £120 plus booking fee, with a whole range of accomodation and travel options to be arranged to your own tastes on top of that, as well as the afore-mentioned extra boat parties (head to the Dimensions website for their handy total required budget guide). But for those not short on cash or time, there is even a double-whammy combined Outlook and Dimensions tickets option for £230 (as long as you can handle a few duplicate names on the preceding weekend's Outlook line-up), making for one serious rave marathon.
A pdf of set-times for Amsterdam's perfectly poised Pitch Festival landed in my inbox this afternoon, so like all good Dutch fanboys I took this opportunity to plan out our full festival movements a good three weeks ahead of the event.
The city's Westergasfabriek (already familiar from the Awakenings techno extravaganzas) opens its doors on 6th July, but as we won't be arriving until the next day (Mr Nathan Fake for one has a date with London's Bloc Festival on Friday 6th July) the first evening of festivities can be relayed in simple punch-packing list form: Martyn, The Gaslamp Killer, Mount Kimbie, James Blake, Azari & III, Kode 9, Jacques Greene, Modeselektor, Sbtrkt, Benga, Machinedrum, I-F and Maya Jane Coles. (If you need to know further specifics, the mother pdf has all of the answers.)
On to the Saturday 7th when our flight gets in from London, though sadly not in time to catch the head-to-head clash between congotronic superstars Konono No.1 on the 150 Stage and hi-fi hedonists Blondes in the Transformator Huis. That difficult decision gives way to sure thing Nosaj Thing and his video-art-gasm at 17:30, leading on to fellow LA-LA-lander The Gaslamp Killer's second psychedelic appearance of the weekend:
Austria's Elektro Guzzi are on hand at 20:00 to give their personal take on the electronica-with-live-instruments brief, followed by a healthy portion of visceral physicality from our favourite London-based synth-and-drum duo (and former Luke Abbott-fiddlers) Rocketnumbernine over in the Westerunie at 22:00, putting up a noble fight in the mammoth soundclash against noisy comedian Mr Oizo's coincimental 150 Stage set.
Past midnight, things get serious as names like Mala, Mosca, Jackmaster and Kutmah make a brave bid for your attention, but our loyal Netherlands massive will surely be firmly planted in the Gashouder for the remainder of the night, as local manchild Jorn Liefdeshuis' DJ bricolage leads into the music-for-dancing-to dream team of Ghostly apparition (and fellow addition to the Luke Abbott-fiddling register) Gold Panda, Iceni warrior Nathan Fake, and our in-house primal reprogrammer James Holden holding forth right through to the early hours.
Looks somewhat unmissable from where I am sitting, so it is lucky that there are still plenty of weekend and day tickets available to buy via the Pitch website. Alstublieft.
It is suddenly all systems go for our Norfolk smasher Nathan Fake, whose gloriously exuberant Iceni Strings single was unleashed yesterday on 12″ vinyl and the mp3 / wav / flac digital holy trinity. The burbling organic A-side has been whetting your appetite for several weeks now over on our Soundcloud profile, notching up over 17,000 plays in the process, but now the full release – including bonus blistering b-sides Sense Head and Bauxite Dream – has been sent out to occupy a slot in your favourite record shops, where it patiently awaits your earliest attention:
And as the late August release date of his eagerly-anticipated nostalgically-titled 'Steam Days' full album accelerates ever closer, it is time for Nathan to haul his intensely physical one-man live set out onto the road, offering a sneak preview of the album delights to come throughout the summer and well on into autumn with the motherload of live dates, including his Eat Your Own Ears backed London album launch party at CAMP on 30th August (try Ticketweb or Seetickets for tickets). Non-Londoners meanwhile can hopefully catch up with him at one of these upcoming worldwide Fake-shakedowns:
22nd June: Razzmatazz, Barcelona, Spain
23rd June: Cultech, Guimaraes, Portugal
28th June: ME.006 Rendez-Vous, Cabaret Sauvage, Paris, France
30th June: The Beat Herder Festival, Lancashire, UK
6th July: Bloc 2012, London, UK
7th July: Pitch Festival, Amsterdam, Netherlands
10th July: Calvi on the Rocks Festival, Corsica, France
20th July: Away Game Festival, Eigg, Scotland
27th July: Audioriver Festival, Plock, Poland
5th August: Woodstock 69, Amsterdam, Netherlands
11th August: Creamfields Andalusia, Jerez, Spain
30th August: CAMP, London, UK (ALBUM LAUNCH)
1st September: Strandclub Naturel, The Hague, Netherlands
8th September: Dimension Festival, Pula, Croatia
15th September: Incubate Festival, Tilburg, Netherlands
5th October: Mutek, Mexico City, Mexico
11th October: Robot Festival @ Palazzo Re Enzo, Bologna, Italy
12th October: Cube @ Demode, Bari, Italy
13th October: Dancity @ Serendipity, Foligno, Italy
19th October: Goa, Rome, Italy
20th October: Tunnel, Milan, Italy
23rd October: Flex, Vienna, Austria
24th October: Der Kongress, Munich, Germany
25th October: Mousonturm, Frankfurt, Germany
26th October: Baalsaal, Hamburg, Germany
27th October: Horst, Berlin, Germany
The Iceni who lend their name to this new single meanwhile were an Iron Age Celtic tribe from Nathan's home county of Norfolk, who famously rose up against their former Roman allies led by their iconic tribal warrior queen Boudica. And any British readers looking to get their history further up to speed than this rather confused Wikipedia article can manage should head over to Channel 4's 4oD site now, where you will discover a handy Time Team Special on Boudica's Lost Tribe (aka The Iceni) there for the streaming.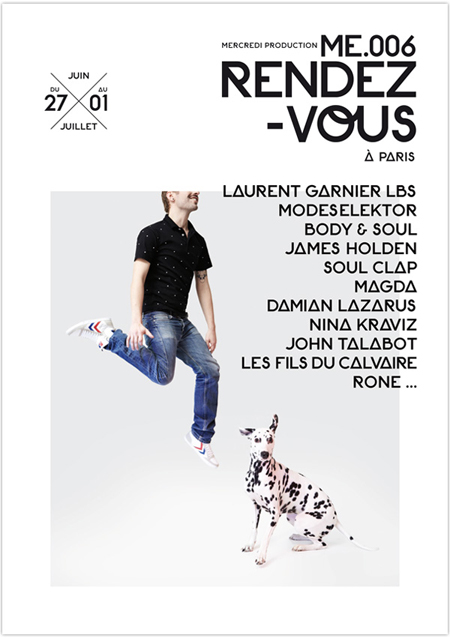 It is no secret that we are quite possibly the biggest fans of the Etienne Jaumet-shaped half of French electricity-and-drum beat combo Zombie Zombie, having called in his truly cosmic remix services (complete with bonus saxophone!) on fellow Etienne-fancier Luke Abbott's spinetingling Brazil single. And we just can't resist inviting the lovable synthtopian along in the flesh for special guest performance duties whenever we are able to squeeze him into one of our infamous Border Community nights, like the forthcoming get-together for Paris' ME.006 Rendez-Vous festival on 28th June, when Etienne provides local support to a core Border Community cast of James Holden, Nathan Fake, Fairmont, Kate Wax and Wesley Matsell. (Tickets for the Cabaret Sauvage event are, incidentally, on sale now for 28 Euros from Digitick).
But we also have a lot of time for his undead partner-in-crime, fellow vegetarian Zombie Cosmic Neman (they only eat humans, apparently), who splits his drumming energies between his twin duos Zombie Zombie and Herman Dune. And today it is the selections of Neman that are filling our ears via his recent contribution to their home label stable Versatile's occasional podcast series, a suitably eclectic yet undeniably motorik affair that hovers effortlessly between the twin monoliths of rock and electronic music, earning the Border Community stamp of approval right next to Versatile's unwavering open-minded affirmation. Head on over to Soundcloud for your free download:
After an absence of what can only be described as too long, our lord of the dance James Holden finally makes his long-awaited return to Brazil this May care of Red Bull Music Academy for the occasion of the Sonar crew's Sao Paulo export edition over the weekend of 11th-12th May.
Following a brief (and equally long-awaited) Argentinian detour via Buenos Aires' Bahrein club on Friday 11th, James touches down in Sao Paulo on Saturday 12th to join an illustrious line-up on the SonarVillage stage that includes brother-in-music-for-dancing-to Four Tet, slick soundscaper Flying Lotus, looney tunesmith Seth Troxler and, representing Warp's bulging teenage division, Glasgow's Rustie. Elsewhere across the complex names like John Talabot, Mogwai, Jeff Mills, Squarepusher, James Blake, Alva Noto & Ryuchi Sakamoto, Modeselektor and Justice may entice you towards the other Saturday stages, whilst Bjork, Hudson Mohawke, Austra, Chromeo, Gui Boratto and Skream on the Friday make a convincing case for getting a ticket for the whole weekend.
A full list of set times can already be found on the Sonar Sao Paulo website, as well as details of this year's extra-curricular SonarCinema selections: click here to go directly to the official ticketing site.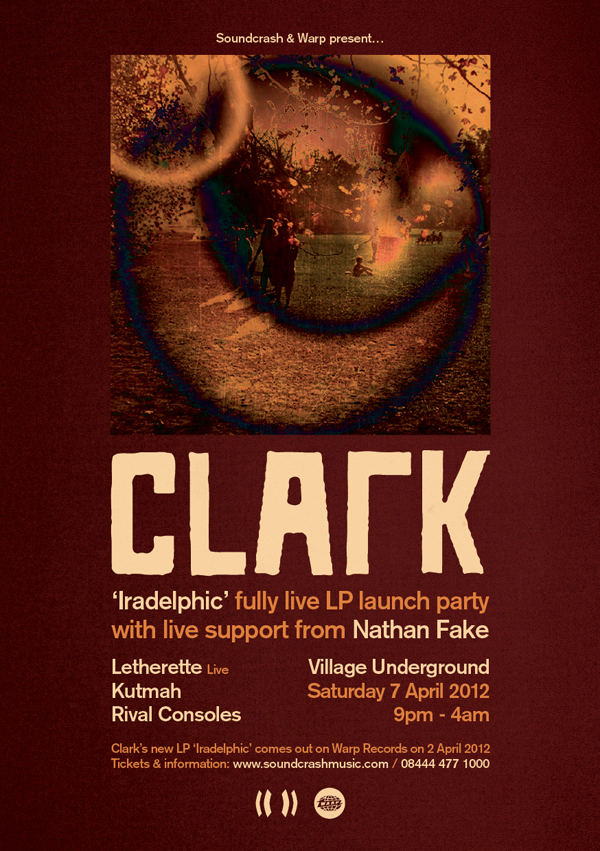 The caverns of Village Underground are the venue for Saturday night's midnight mass with Warp prophet Clark, who presents the latest gospel of his Iradelphic album to the assembled congregation in celebration of its last-Monday release date. And who better to preside over proceedings than our own manly IDM disciple Nathan Fake in a very able live support role, presenting a tantalising glimpse of brave new future Fake-jams to come. With a further warm-up live set from Letherette, and Kutmah and Rival Consoles on DJ duties, the Soundcrash crew are making a whole night of it: which at just £12.50 in advance (final tickets available here) doesn't sound like bad value at all!
Clark's weighty 'Iradelphic' tome is available in your shops right now on vinyl and cd, or grab the mp3s from Bleep (who else?) right away for some last-minute fan-boy swotting up in advance of Saturday night's holy communion. But if you would prefer to try before you buy, the high church of Intelligent Dance Music (Warp) have added a free mp3 download link to the description page of this Youtube stream of album newie 'Com Touch' for taster purposes. And rather rhapsodic it is too: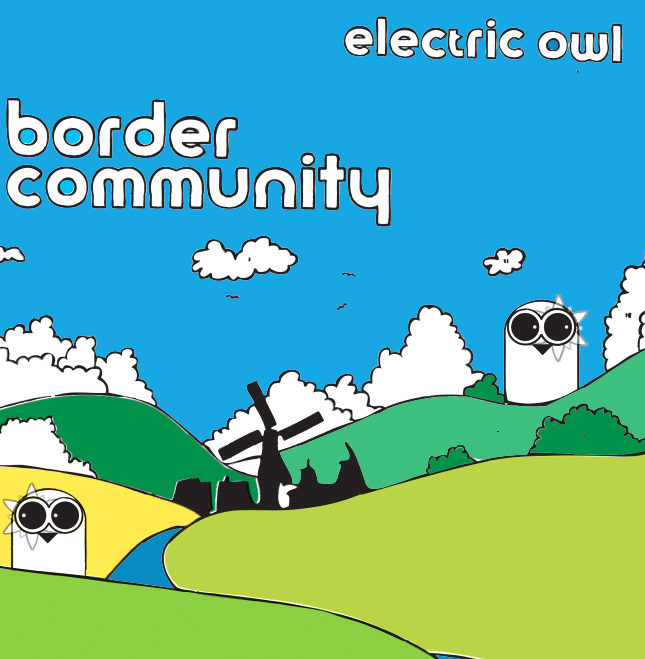 Next week we'll packing three of our finest off to a land down under to make their respective Australian performance debuts as part of the Border Community tour juggernaut, which makes its first scheduled stop at Melbourne's Brown Alley for promoters Electric Owl on 23rd March (tickets available now from the very Australian sounding Moshtix):
Stowed on board will be Norfolk's premier synth nerd Luke Abbott, all psyched up to give the organitronic delights of his Holkham Drones debut album their first ever Antipodean airing, as well as a tantalising sniff of some future release action soon to come. Canadian troubadour Fairmont will also be present on live vocal electronica duties, slipping seamlessly back into his solo incarnation following his decidedly Manc-tinged band Bishop Morocco's Texan excursion to this week's SXSW newmediapocalypse. And finally, hitching a ride in the tour DJ seat is resident selector extraordinaire Avus and his bulging record bag, his own latest greatest Moog anthems (his recent Staring Into One Eye EP for Shabu, say?) nuzzling up against the choicest acid and tech produce that his local wax dealer Vinyl Underground has to offer.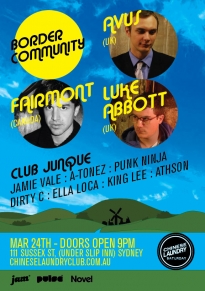 And the next day (March 24th) the whole tour shebang motors on up to Sydney's Chinese Laundry, to do it all over again:
Realistically, even the most dedicated of Border Commies (and in this field there is quite some competition!) isn't going to make it over to Australia to follow them, but that doesn't stop you from taking advantage of the free Avus mix which the Novel Events crew have been spreading across the internet in tour anticipation, downloadable from Soundcloud or streamable right away from our own Mixcloud profile as befits your own personal audio predilections. A veritable Border Community bonanza awaits, featuring Oz-bound tour mates Fairmont and Luke Abbott, Welsh white wizard Wesley Matsell's contribution to Petter's party-minded Studio Barnhus outfit, an Extrawelt salt rub of Bomb The Bass and of course the freshest meat from Avus himself:
Tracklist:
1. Avus – Falcon Special [CDR]
2. Wesley Matsell – Mind Vs Mind [Studio Barnhus]
3. A Different Kinda Brother – Tracy's Revenge (String Remix) [Nice and Nasty]
4. Klartraum – Unique Shadow (Klunk and Zilly Terry Francis Remix) [Lucidflow]
5. DJ Koze – I Want To Sleep [International Records]
6. Lake People – Rusty Clockhands [Musik Gewinnt Freunde]
7. Luke Abbott – Brazil (Slow Version) [Border Community]
8. Avus – Staring Into One Eye (Wesley Matsell Remix) [Shabu Recordings]
9. Legowelt – Disco Rout (Deetron Remix) [Cocoon]
10. A Jackin' Phreak – Acid Sex (Gay Fornication Mix) [RZ Records]
11. Scuba – Ruptured (Surgeon remix) [Hot Flush]
12. Bomb The Bass – Infinity (Extrawelt Remix) [K7]
13. Fairmont – Ununoctium [Border Community]
14. Avus – Volt [CDR]
Luke meanwhile has promised me pictures and a tour diary guest blog upon the intrepid trio's safe return: watch this space.
The musically and mathematically inclined trio of our own sometime Oxford-educated James Holden, reformed Manc-mathematician Kieran Hebden (otherwise numerically known as Four Tet) and ongoing PhD producer Dan Snaith (driving force of the Caribou machine) do rather relish any opportunity to play in one other's presence. The challenge of course is trying to pin the three of them down in one place on the same date, such is the jetset nature of their respective touring schedules…
Kieran Hebden managed to make three legendary days of it back in November 2010 when he rolled his personally-curated bus tour out around the UK, stuffing our own James Holden and Nathan Fake onto a bill (and a tour bus) that also included the vital and visceral Rocketnumbernine synth-and-drums experience alongside the full Caribou band in all of its adorable glory and his own Four Tet live incarnation:
Dan Snaith repeated the feat last December when the trio were reconvened during the rehearsals for the Caribou Vibration Ensemble musical love-in which topped off the band's Sunday curation of ATP's Nightmare Before Christmas, drafting in Kieran's sampler support and James' modular synth meltdown as well as additional drums from Ahmed Yeasayer (lately professionally known as Sinkane) and a full Canadian horn section to beef up their usual four piece to truly psychedelic proportions: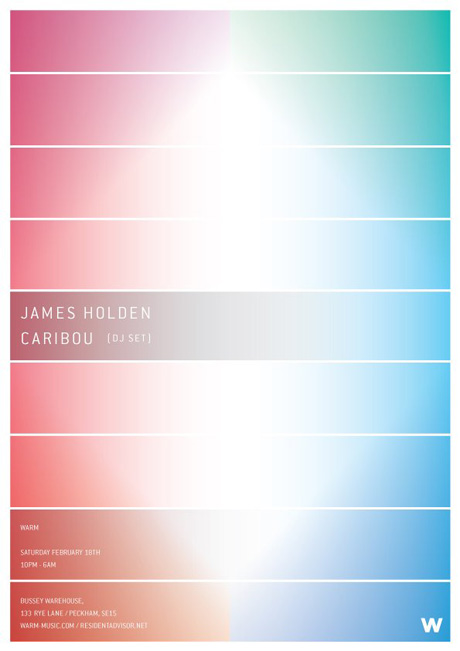 Your average humble promoter meanwhile usually has to settle for just two out of three – which in itself is no mean feat, and a task best left to the truly tenacious. London party planners Warm certainly fall into this category, having finally managed to lock down the full all-night-long DJ services of both James Holden and Dan 'Caribou' Snaith for this Saturday 18th February at the Bussey Warehouse in London's Peckham. Tickets predictably flew out in a flash so this is already technically sold out, with just 100 extra bonus tickets which the Facebook event page assures us will be available on the door for early arrivals from 10pm.
(Flyer by the visually succinct Jack Featherstone, whose favoured colour palette has also recently graced the Another Land series of impeccable Border Community EPs from Avus, Margot and most recently Fairmont…)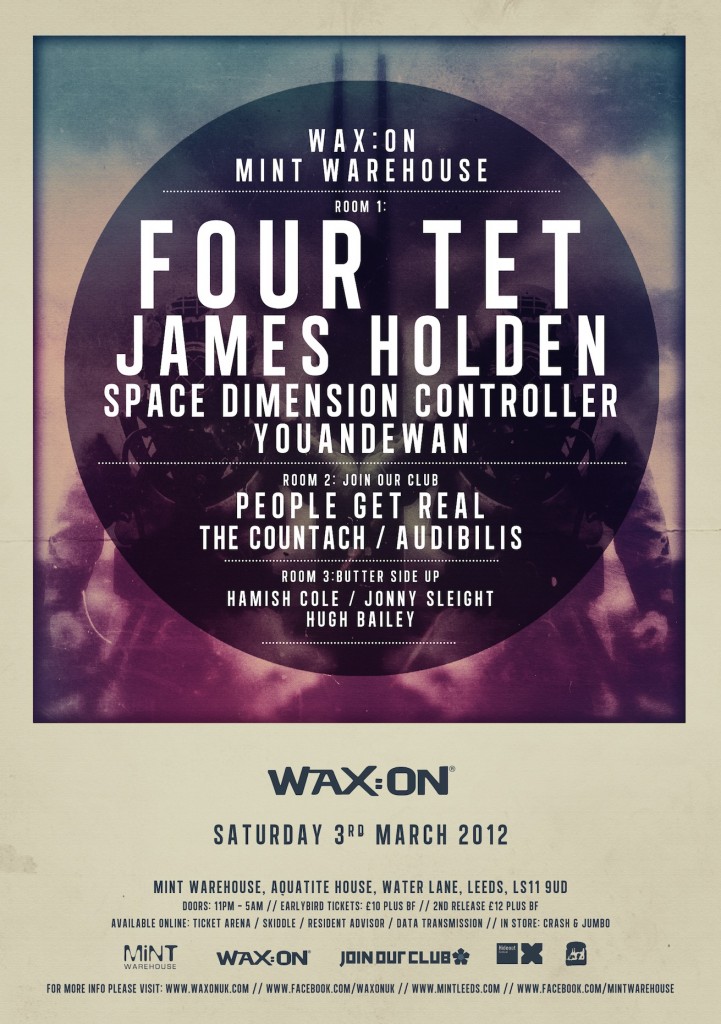 The patience of Leeds' Wax:On is also to be rewarded on 3rd March, when James Holden and Four Tet have committed to be DJ battle buddies for an evening at the city's Mint Warehouse. Leeds is long overdue a Holden-fix, so any Yorkshire-based fans of music-for-dancing-to had better secure their £10 early bird tickets from Ticketarena pretty quickly to make sure that they don't end up on the sharp end of another sell out:
NOTE FROM JAMES: James was totally blown away by the musicianship of every single one of his new-found Caribou Vibration Ensemble bandmates during their intensive week of rehearsals-leading-on-to-the-live-shows, and as soon as he got home he made sure to track down the respective solo and side projects of Sinkane, Kyle Brenders and Enon. He strongly advises that you do the same.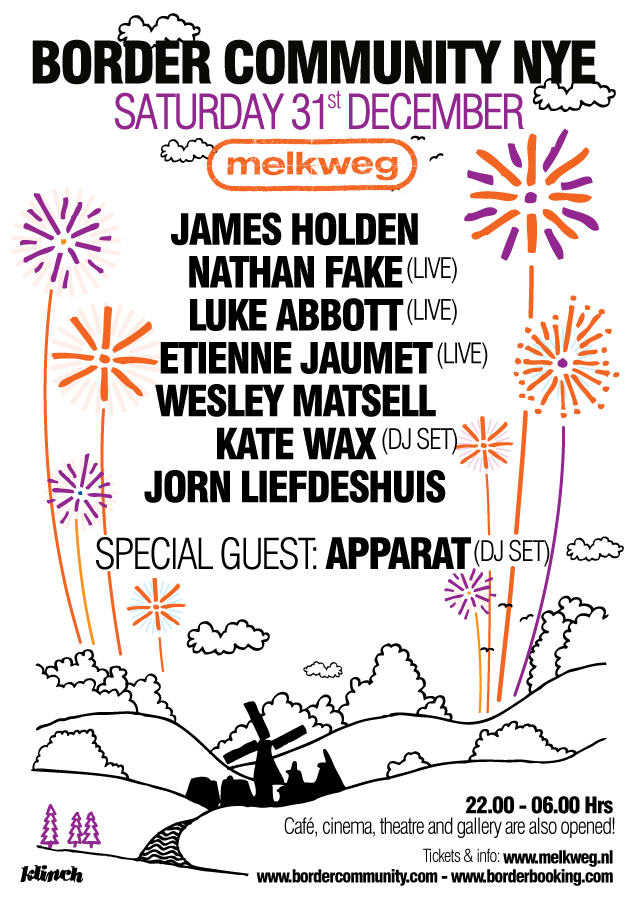 Christmas edges inexorably closer, which means that New Years Eve is just around the corner – but you still just about have time to get in on our two room takeover of Amsterdam's Melkweg this December 31st (tickets still available for 40 Euros from Ticketmaster):
Leave the festive frenzy where it belongs in 2011, and start 2012 as you mean to go on in the company of none other than: master of Shamanic ceremonies James Holden! DJ-come-lately Apparat! Norfolk knob-twiddler Nathan Fake! Rave Buffalo Luke Abbott! Synth-and-sax synergist Etienne Jaumet! Weird wonder Kate Wax! Welsh mystic Wesley Matsell! And last but by no means least, man-about-Amsterdam-town Jorn Liefdeshuis!
Of course, the hardest part will be choosing between the two competing rooms of music-for-dancing-to, not to mention the BC-approved film selections showing in the Melkweg's in-house cinema area. So perhaps a few set times would help you plan your New Years Eve manoeuvres down to the letter:
The Max:
22:00 Wesley Matsell
00:00 Apparat
02:00 Nathan Fake
03:00 James Holden
Old Hall:
00:15 Jorn Liefdeshuis
01:30 Etienne Jaumet
02:30 Luke Abbott
03:30 Kate Wax
Or better still, in the spirit of our roaming party mentor An'Unexpectacle, make no plans, and wander aimlessly through the Melkweg complex taking delight wherever you may find it.
In the meantime, how about some prescribed listening to fill your between days festive downtime until the big event? Apparat's 2010 DJ-Kicks patchwork provides the perfect preparation for one of his rare DJ outings, jostling for a place in your Spotify queue alongside more recent releases from brothers-in-synth Luke Abbott (the invigorating Brazil) and Etienne Jaumet (the brooding Satori). Miss Kate Wax meanwhile will also be stepping out of her usual Dust Collision live orbit to don her DJ cloak of danceability, whose delights might best be previewed in her latest podcast outing for the mighty Drowned In Sound – the grandiosely titled influence-spanning Monolith For The Blues:
Over the considerable months since the release of Luke Abbott's Holkham Drones debut album, Luke has amassed quite a collection of celebrity fans.
Mr Gold Panda of course recently lent his remix support to the Brazil incursion, but the Lucky Shiner was actually one of the first Abbott-maniacs to come out of the woodwork, proclaiming his early allegiance to the 'Holkham Drones' cause via one of his erratic Twitter incarnations before cementing that commitment by putting Luke forward as his own personal tip in The Guardian's collection of fantasy Mercury Music Prize nominations. Said same Guardian article saw the Celeb-stakes somewhat raised, when lead singer of Domino's Cumbrian ambassadors Wild Beasts Hayden Thorpe matched the Panda's Mercury tip with their own Abbott-endorsement: "Abbott is a wizard with noise. If Britain had a Pitchfork then surely he would be its darling."
But now the bar has been set to record-breaking heights as none other than Elijah Wood himself has stepped into the fray, as Luke explained yesterday on his blog: "Elijah Wood of cinematic fame has made his bid in the race to become my most high profile fan". Elijah spoke out on his love for 'Holkham Drones' in this video posted on the blog of America's Fuse.TV with an on-the-button summary: "warm, analogue-sounding bedroom electronica. I love it. It's so good."
Curiously, loyal readers may remember that this isn't the first appearance that Elijah has made on this blog, previously popping up as an addendum to one of Luke Abbott's hobbit jokes with his opinions on The MFA's The Difference It Makes, a track which he was rather less keen on…
The digital files sneaked out a while ago now, but the all-important hard vinyl currency of Luke Abbott's awesome Brazil single package is set to hit your shops this Monday 19th December (just in time for Christmas!), complete with new even more danceable Slow Version, typically top drawer remixes from Gold Panda and Etienne Jaumet, and bombastic bonus Luke Abbott original Grumble.
But as if that wasn't goodness enough to kick off the festive season, to top it all off we have just unleashed this accompanying multimedia video gem, a suitably lyrical collaboration between Luke himself, his artist-photographer girlfriend Katherine Mager and their poet friend Sam Riviere. Filmed in Norfolk, Norwich, Brighton and London, the video superimposes Sam's words as subtitles to subtly-moving snapshots of the British seaside in its "attempt to investigate the invisible connections between people and objects", to curiously uplifting effect: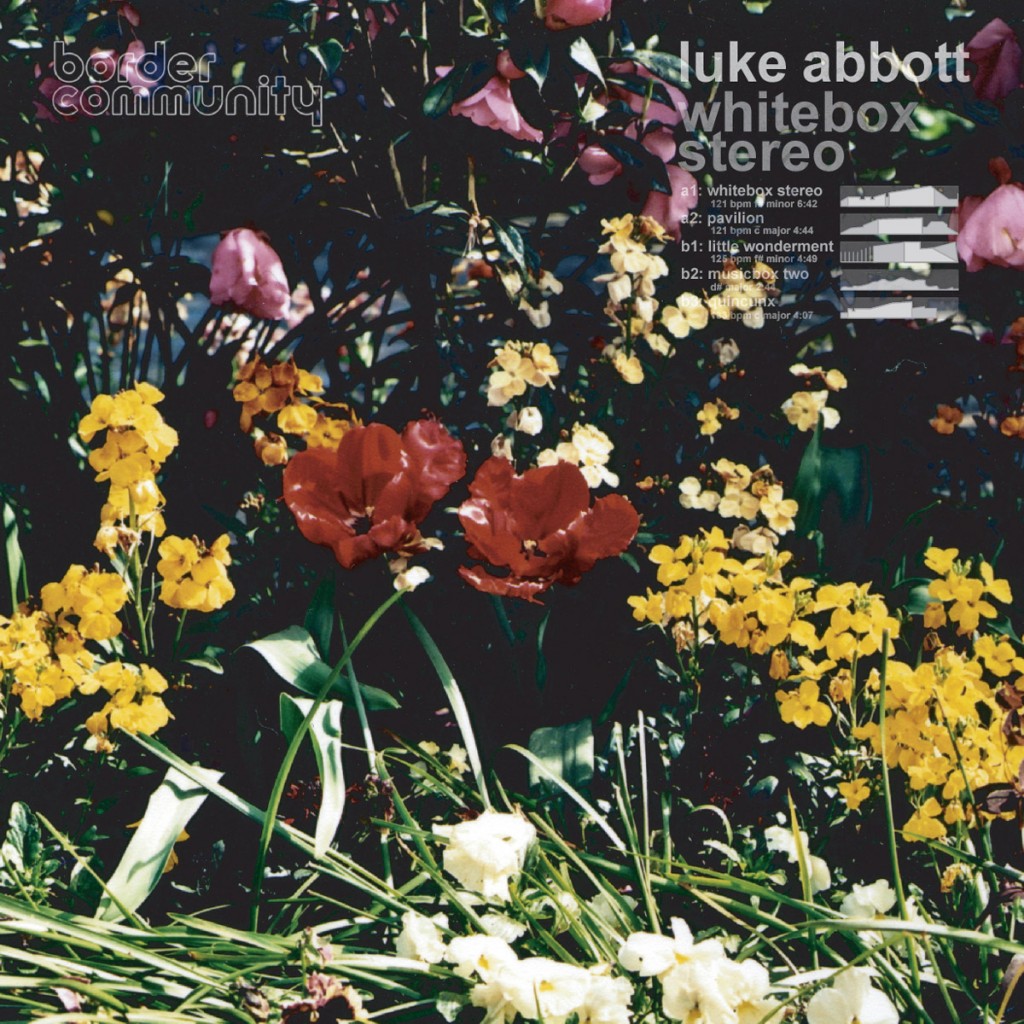 Brazil is Katherine Mager's first ever music video outing, but you may already be familiar with her previous Border Community / Luke Abbott related work for the floral cover of Luke's Whitebox Stereo EP: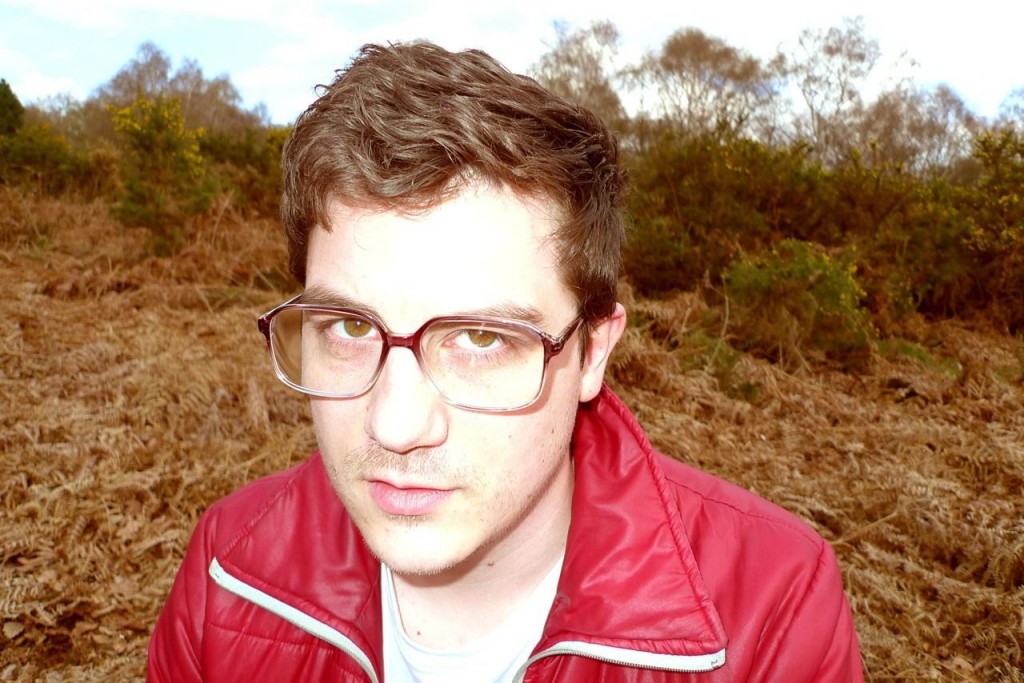 She also provided Luke's current set of special press photos, of which this shot has proved to be particularly iconic:
Particularly observant Norfolkers may even have stumbled across her previous solo exhibitions at Art in the Underbelly and the Norwich Art Centre, the latter of which went so far as to name her 'Norfolk Photographer of the Year' in 2008. For more information on Katherine Mager's previous and future projects, head on over to her occasionally updated blog.
Sam Riviere meanwhile is a name that may be new to anyone who isn't a regular on the burgeoning young British poet scene, but now is as good a time as any for your induction into his world. Based between London and Norwich, Sam has previously had his poems published in The Guardian and The Spectator, as well as starring in his own New Poets pamphlet for Faber + Faber in 2010. Sam also co-edits the poetry and illustraion anthology Stop Sharpening Your Knives, and is currently occupied on a series of poems entitled 81 Austerities, to be gradually unveiled via his own thoroughly modern Tumblr blog.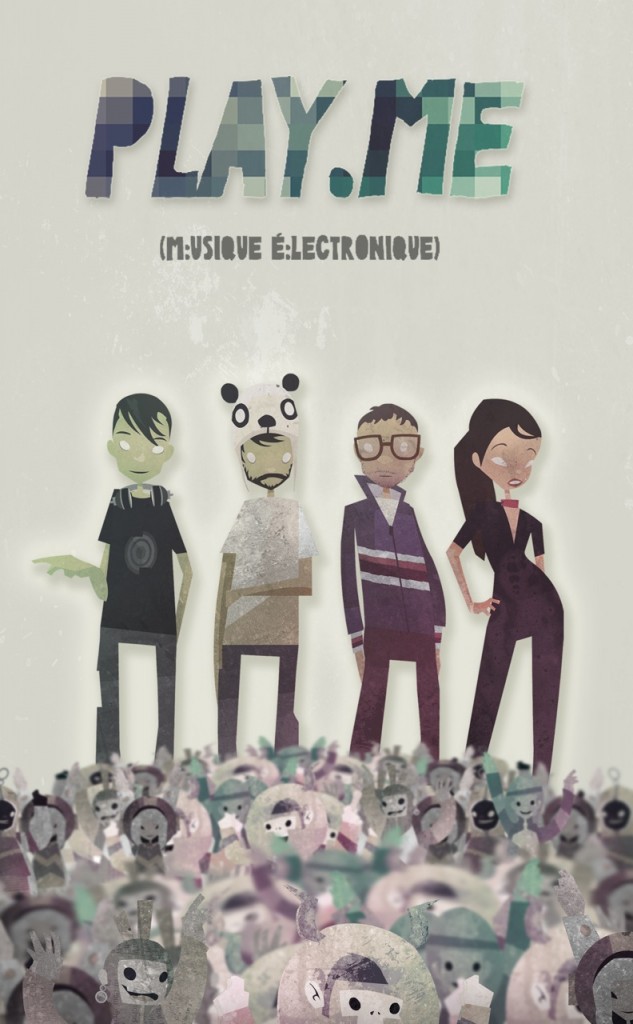 Those Border Community get-togethers have been coming thick and fast of late, and you know there is nothing we like more than collecting up our nearest, dearest, latest and greatest all in one place for a night of goodwill-to-all-men happy clappy hedonism. The latest outlet has been provided by Hamburg's Popmondial promoters, who have secured the services of recent Luke Abbott rearranger Gold Panda to top off a decidedly Border Community-themed line-up that includes master of shamanic ceremonies James Holden, electronic buffalo Luke Abbott (whose Brazil just hit the mp3 stands, with the vinyl soon to follow) and the equal parts haunting and haunted Kate Wax (whose Dust Collision is now all around us on vinyl, CD and mp3), with the eager and most able support of young, British and electronic Seams thrown in for good measure:
Indeed, so bursting with goodness is this line-up that it has now spilled over into a second club floor, the neighbouring Neidklub, where the early doors live shows of Seams and Kate Wax will be running from 11pm, with the Panda taking over on the main Baalsaal dancefloor from 1pm. Entrance to both zones is of course included in your original Play.Me ticket price in true Reeperbahn crawl-friendly fashion (and if you haven't got your ticket yet, then you had better snap one up here pronto). And the full programme runs something like this:
Floor 1 (Baalsaal):
22:00 We Are Alaska
23:00 Krger
00:00 Dependance
01:00 Gold Panda
02:00 Luke Abbott
03:00 James Holden
Floor 2 (Neidklub):
23:00 Seams
00:00 Kate Wax
Music-for-dancing-to doesn't come much better than this little lot. And rumour has it that a certain Mr Nathan Fake has already been booked in for Popmondial's next Play.Me club session – those lucky Hamburgers…