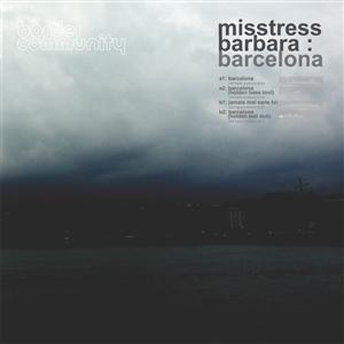 Border Community is proud to announce the latest new recruit to our burgeoning roster of supremely talented genre-benders: Sicily-born, Quebec-bred first lady of techno Misstress Barbara, with the sublime 'Barcelona'.

As the traditional genre boundaries of dance music become increasingly blurred, it is entirely fitting that techno heroine Misstress Barbara should now find a second home in the Border Community. She brings with her 'Barcelona': joyful, exuberant and hypnotic, boasting real kicks and a crisp top end true to Barbara's techno roots, and decidedly refreshing sounding to these ears. It then falls to the governor James Holden to transform the almost untouchable 'Barcelona' into the obligatory tool versions, adding a glitchy 'Bass Tool' and the washes of melody of the 'Bell Dub'. 'Jamais Moi Sans Toi' meanwhile actually began life as an alternative version of the lead track, but soon took on a life and rather melancholic soul all of its very own: a real tearjerker and no mistake.
Buy final ever vinyl copies from The Market. All digital formats available from The MP3 Store, Bleep and stream on Spotify.