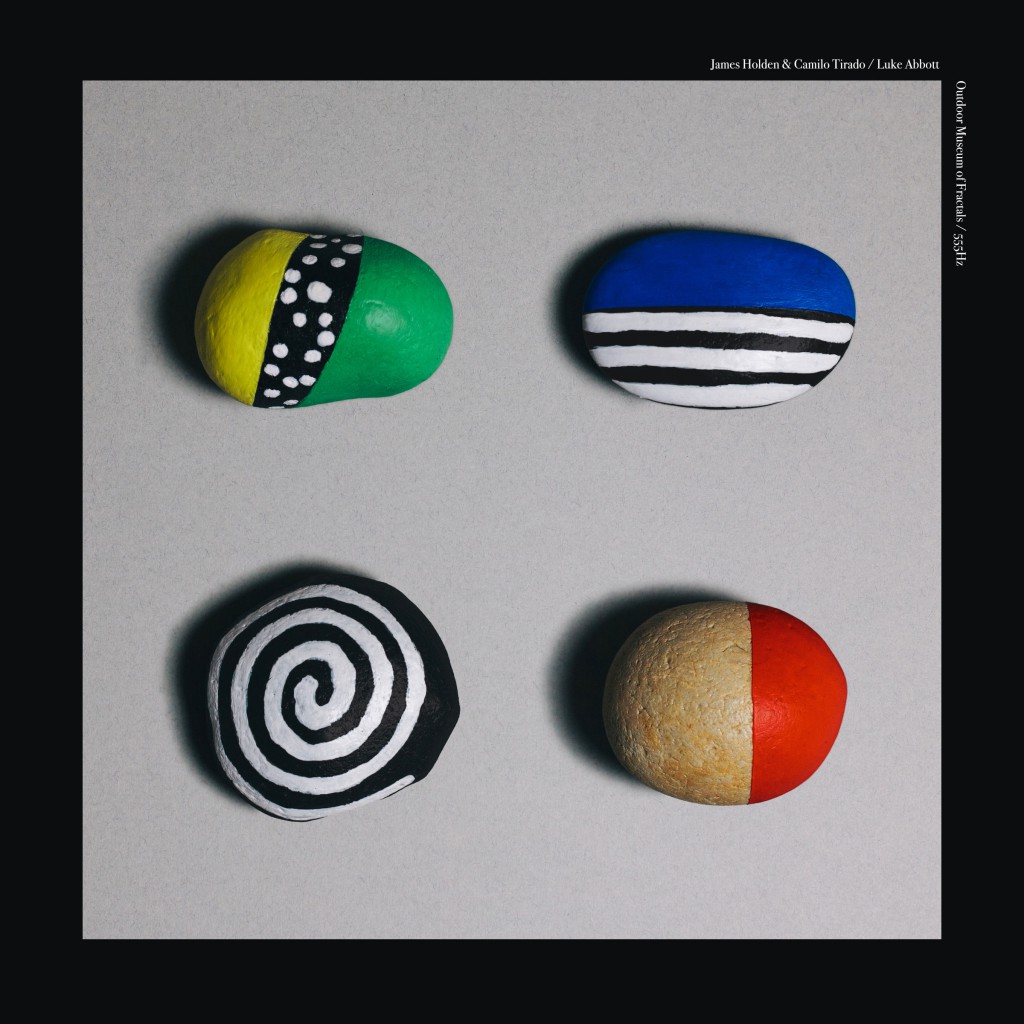 As we continue our explorations into the improvisational possibilities of electronic music, Border Community strays ever-so-slightly into New Age territory with this split double LP from our eager in-house improvisers James Holden and Luke Abbott, with a pair of extended synth meditations indulging their respective loves of arpeggio and drone. Extending to over 45 minutes and 30 minutes apiece in their digital form, the double 12" vinyl edition gently fades each composition around the halfway mark to fit over both sides of its own vinyl disc, as the act of flipping the record over becomes part of the zen ritual of contemplative listening. (Bonus codes for the uninterrupted full length digital download are also included for your convenience).

The complementary pieces 'Outdoor Museum of Fractals' and '555Hz' were originally conceived in response to a brief from London's Barbican and Amsterdam's Muziekgebouw venues, who in April 2015 invited Holden and Abbott to participate in their 'Hello Terry Riley' joint event in celebration of American minimalist Terry Riley's 80th birthday. Taking their inspiration as much from Riley's rigorous compositional methodology as from the zen-like atmosphere and spirit of his works, Holden and Abbott's goal was not to create carbon copy soundalikes of the Riley cannon, but rather to immerse themselves in the challenge of writing the same type of hypnotic, slowly unfolding linear music as championed by Riley, in direct contrast to the ubiquitous peaks and drops of the Western classical and popular musical paradigms.
For Holden, the opportunity to step further out of the world of dance music and into the concert hall brought with it permission to indulge himself in long luxurious washes of Terry-esque arpeggiations, all generated by the rule-based chaotic system of his bespoke modular synth. Co-pilot on this hypnotic, meditative journey is tabla player Camilo Tirado, dedicated student of and ambassador for (as well as Holden's personal guide to) the Indian classical tradition which originally inspired Terry Riley. Together Holden and Tirado explore the assorted melodic trajectories of 'Outdoor Museum of Fractals' in symbiotic partnership as Holden's intricately varying arpeggios are triggered by the percussive input of Tirado's pitched tabla drumming, transcending the familiar repetitive loop formation of electronic music as they spiral out into endlessly unfolding fractal complexity.
The mystical frequency of 555Hz forms the backbone of seasoned improviser Luke Abbott's extended metallic gong-drone offering to Terry, inspired by Luke's own personal numerological-mythological fascination with the number five. Over this, a variety of harmonically-related arpeggios and drones are layered, and occasionally resonated through a modified 26" gong, as Abbott gradually explores the various textural configurations of his system in a sequence of transportive wave-like swells. '555Hz' proves to be every bit the drone record which Abbott's misleadingly-titled Holkham Drones debut album wasn't, as he embraces the compositional freedom of a return to his electroacoustic roots.
The split double album containing 'Outdoor Museum of Fractals' and '555Hz' will be released by Border Community on 26th February in the form of a double 12″ heavyweight vinyl package including download codes (order now from Picadilly Records, Norman Records, Bleep or Boomkat), and all digital formats (iTunes, Beatport etc).