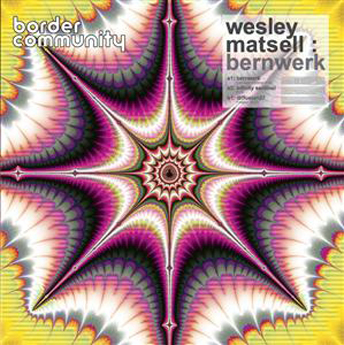 As we continue to mine the rich seam of emerging British talent, Wales' Wesley Matsell steps forward as the latest addition to the Border Community family, teaming up with us to unleash the Schaffel-Rave-Monster that is the mighty 'Bernwerk' on an unsuspecting world.

The bouncy rhythms, krauty arpeggios and Airwolf-meets-Jean-Michel-Jarre strains of 'Bernwerk' form a fitting next step in our recent unintentional campaign to revive the slumbering Schaffel beast, and early reactions from the dancefloor coalface suggest that we have a bit of a monster on our hands here. But a Border Community release is about much more than just the hits, so we couldn't resist including an extra pair of mp3s that reveal the other sides to 25 year old Wesley Matsell's most intriguing personality. 'Infinity Sentinel' offers a brief interlude of beautifully abrasive experimental psychedelics, whilst the 20-minute long recorded-in-one-take live improvisations of 'Diffussion27' create an introspective after-hours home-listening gem whose twinkly layers gently drift and morph like a modern day Tangerine Dream.
Final Vinyl copies available from the market. Download 'Bernwerk' from the MP3 store and Amazon
or stream on Spotify.