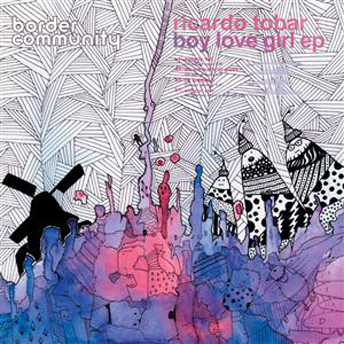 Continuing his mission to fuse noisy, punky genre-busting electronics with heady, uplifting new-shoegaze, Chilean cutie Ricardo Tobar returns with another four tracks of next level melodica collectively known as the 'Boy Love Girl EP'.

Armed with the two key attributes of musical prowess and production finesse, Ricardo Tobar's latest EP for Border Community is a sophisticated musical blend indeed. 'Boy Love Girl Song' is a joyful slow-building club jaunt guaranteed to put a great big smile on your face. 'Computers' is a blast of noisy bombastic electronic-rock, tailormade for an indie-dance club thrashing. 'Psprf Frame' continues the noise theme – a freestyle growling bass freakout that sounds like the end of the world itself – in a good way. Finally, the delicate, dreamy pianos of 'Voy A Buscar' threaten to wind things down, but not before one final crescendo of power-rock euphoria just to check that you are paying attention.
Buy final vinyl copies ever of the 'Boy Love Girl EP'. Download tracks from MP3 Store,Amazon
, Bleep and stream on Spotify.